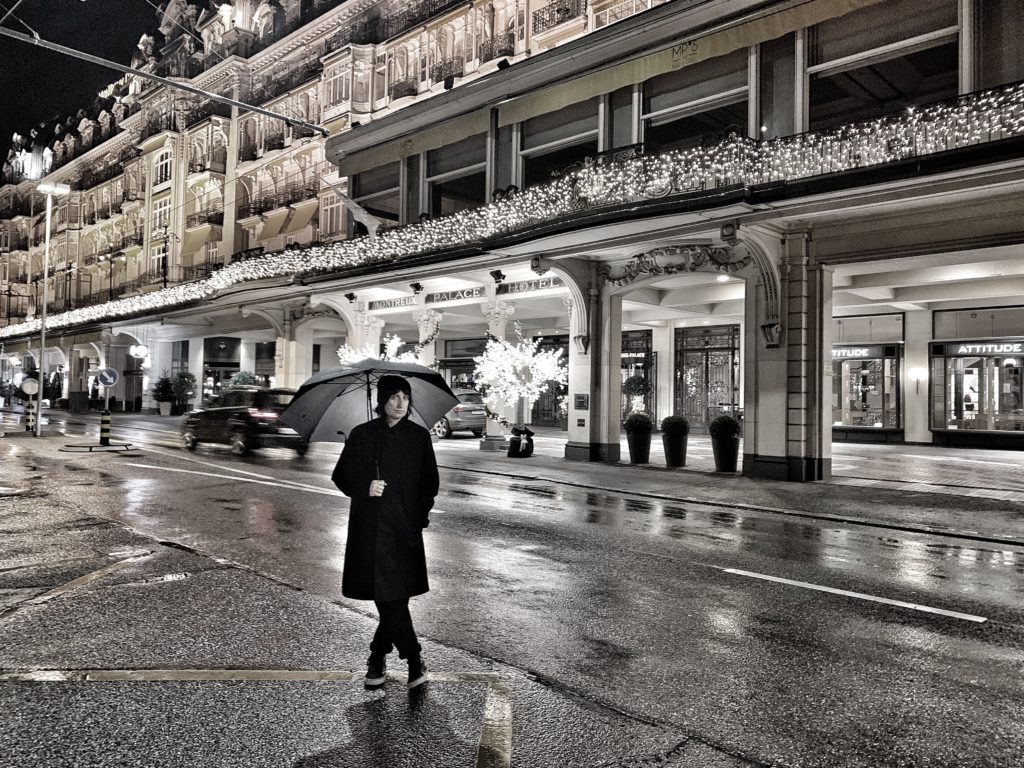 The last couple of months have been hugely transitional for me. I finally moved to my new place down in London then without a moment to settle in I embarked on one of the greatest journeys of my life. Cruising on the QM2 to New York over 7 days and nights was breathtaking.
A small glimpse at my QM2 diary…
Ocean life right away feels like a trip into the past, a past that I've enjoyed reading, watching, imagining and learning about but never experienced as a passenger.  The closest would be the ferry over to Europe on tour with LostAlone and believe me its nothing like this! The Atlantic ocean is all encompassing with nothing on an unchanging horizon but everything. Each day the same view is completely different depending on the mood of the waves. 
It strikes me while writing this that not only is it the end of a bold year but that it is also then end of a decade and the start of a new. Then I fall into the inevitable mind wandering hole full of questions like why is time and date even relevant to anything – why do we put so much stock into the changing of a self imposed regiment?…. but we do and I guess I do because all sorts of sentimentality, nostalgia and future thoughts do pile up at these times and are worth reflecting on and maybe a little analysis is not a bad thing.
At the start of this decade I, along with my band signed a record deal with Warner Brothers Records in the US. Eternal thanks to the much missed Craig Aaronson for having the faith in us and my songs (RIP Craig x) and I went on to write and we subsequently made the record out in Hollywood with Greg Wells, Jacknife Lee and mixing with Mark Needham and back in the UK Alan Moulder.
I'm A UFO In This City remains the most fun and dream like experience I've had in the studio and I'm glad that it is still so loved by you all. It feels like such a different age now but I remember the excitement when we heard Fearne Cotton playing Love Will Eat You Alive on BBC Radio One while the three of us were in a rented car on the motorway heading to meet our tour bus in Newcastle.
My good friend in the industry said something interesting to me the other day and it was this. LostAlone UFO album landed at the point of mass confusion in the industry – illegal downloading was the way in which most people listened to music and streaming hadn't really got up and running as a real alternative, vinyl was dead and CD was clinging on – not a good time!
I loved all the touring we did around that record from the smaller headline shows up to the big arenas with 30STM and especially MCR who were / are kindred spirits. Although we already had a strong fanbase, the best in fact (but I would say that – its true) out in mainland Europe from the huge touring we did for the debut record it was UFO that seemed to solidify a real worldwide, albeit small in the grand scheme of things set of fans and who a lot of you are still here reading this today – thanks for sticking around!
Shapes Of Screams record was a pleasure to write and endeavour to make, I remember being obsessed with Les Miserables musical at the time and wanting to make a rock record with the same sensibilities, sensibilities which I already think were evident via my Queen influence over all the previous output.
The recording process should have been another amazing experience but through a variety of reasons it became very solitary for me culminating in me knowing by the end of it that it would be the final LostAlone record. Death, relationship breakdowns, economic worries, absent members of the team and a cat that also could take on human form.. the record became our best reviewed, receiving reverence and a joyous response from you all which made the torture of recording it worth it. I must say that the majority of the backing vocals (which are a HUGE part of the album) were recorded back in Derby at Snug studios and I do remember rolling around with laughter recording them so it wasn't all dooooooooooomgeddon. The mixing with Adam Noble was also joyous.
A couple of tours, two epic final shows and within six months it was over, the life that myself and Mark started as 11 years old and were joined by Alan at the dawn of the decade crashed into oblivion in December 2014. You can now hear the final show here!
In my usual relentless style I didn't skip a beat, didn't take any time to mourn other than one day in Montreux where I sat at 4 in the morning on the Lake Geneva shore right outside Freddie Mercury's old apartment and I ritualistically destroyed a copy of Shapes Of Screams and let it fall to the bottom of the lake and with it the past. I then embarked upon calling myself a songwriter and writing for other artists and for commercials all to sustain my ability to keep making my own music.
I spent 2015 writing music for others and making my debut solo record Exit Brain Left in a very different way to all my previous records. Previously I would write maybe 100 songs, rehearse them all with the band and make A/B/C lists which would then become the album. For EBL I would travel for a week and write a song which would then be recorded. I love the record for this, its a diary of the post LostAlone era and I think lyrically and musically its all about that. Its been my own choice to not tour which is an odd one because its what I miss the most and the sting of its absence is increasing with very year that falls away. I loved the show I did for the record release in London back in December 2016.
I love my live band I've put together, Jimi, Rich, Foster my front of house Pete and more recently Alan has joined. We have such a great time rehearsing – I just wish I could get my brain in gear and do some more shows.
In 2017 I put out an EP called Life Is Company Me Is A Crowd Four songs, three of which I wrote in Denmark my favourite being a song called Breathe which I wrote directly after the end of LostAlone but had been festering for a couple of years. I also dropped a song called No Leopards which I wrote walking to the hospital in Derby and immediately had to run back home to demo and then into the studio with Rich to finish up when I couldn't stop singing "No change no Leopards gonna change no spots"
I actively start writing my second solo record in November 2017 when it was agreed I would travel to my friends house in upstate New York to make the album in the following March. I really enjoy writing in winter and I had done a song for something commercial which gave me a good 9 months of security so I could focus on the record. First though I took two songs which felt more rock to chapel studios in Lincolnshire and had Mark and Alan play on them, honestly these could've been LostAlone songs if the band was active. It was so great to be in the studio again with the guys, a real magic happened and Shipwrecked and Shark Infested Stalker sound special for having them on. I ended up recording a vast amount of the songs that would make up Midnight Between Months in my room back in my house in Derby and on a couple of trips to Berlin and Montreux before heading out to New York in March 2018 to get all the vocals and additional recordings done with Dan Weller and assisted by my friend Brook.
This then began a new phase in my writing life. I travelled direct from NYC to Kansas and met the greatest bunch of people from THE PIG to Corey, the Mills Brothers (fellow Star Wars fans) Mckenna, Dan Weller (the US Dan with the exact same name as the UK Dan Weller) and genuinely so much talent! Hearing these  fantastic people bring my own songs as well as songs we wrote in the room together alive was a real game chaining moment for me. I've returned a few times and intend to do so again and more often! After Kansas came Nashville, nothing prepares you for Nashville. As a songwriter in most cities you're always the person in the room who does the "different / strange job" not in Nashville – its THE industry and its strange if you're NOT a writer!
I've returned to Nashville a couple of times now since my first visit, last time taking Rich fro Snug in Derby and having a brilliantly creative time -the artists and writers I've met and worked with are actually too many to list on here but shout outs to Sarah Ross, Broseph and Jodi Marr and Bart Allmand. I can't wait to get back in 2020.
I've been lucky in the past year to have written with so many amazing writers, its very different to how I write for myself/ LostAlone especially with the more pro writers but its something I forced myself to do and now really enjoy. Writing songs for in the pop genre is fun and fulfilling in a totally different way.
I also had the best time writing with Jonas Bjerre , the singer and writer from one of my all time favourite bands – Mew, I made a great friend here, we had a brilliant few days at his place in Copenhagen. Another lovely time came when I spent a few days in LA writing and generally having the best musical talk with my friend Ray Toro who is 100% one of the best dudes on this planet.
So mindful of time and this ending up being 2029 before I stop writing….Im going to try and finish this up. We just put out the LostAlone live album 5 years or half a decade since the actual show and that has felt like the perfect bookend to this decade.
First new solo music of the decade will be out in a couple of weeks and I'm working on actual playing live a little more as well as stepping up my writing with/ for other artists and some more writing I'll keep close to my chest for now…
Flash sale over on my store for this week only, Vinyl and CD bundles and my favourite songs of 2019 can be found here
Wishing you all the best for the new decade and I hope to keep soundtracking your lives.
I'm heading to Berlin to get inspired
Steven